Wingback chairs are statement furniture. They make your living room look elegant. Not only your living room but also elevate the look of your bedroom. These chairs have been around for more than three hundred years and are making a comeback in today's times.
That's right! Usually, people in medieval times used wingback chairs to sit comfortably near the fireplaces in extreme winter. As we see in contemporary times, wingback chairs have risen in demand because of their capability to adorn your home.
If you are a person who gets some exquisite home decor items, you should get a wingback chair. But if you search online for a wingback chair, you'll come across various varieties. That's why we bring forth a guide of some wingback chairs that will make your home look great!
But before you pick one, make sure to go through this guide for choosing a wingback chair.
Round Chairs
Different kinds of round wingback chairs are available in the market that can make any space look perfect! These chairs generally have a dorsal end which comprises some artificial material. You will find an attached fabric in the chair's upper part.
Round wingback chairs are perfect for your drawing or living room.
Recliner Chairs
If you have been into buying chairs lately, you would love the idea of having a recliner chair. Recliners provide the best comfort level to any person. Infact, their main purpose is to provide relaxation to a person. There are both leather and fabric recliner chairs.
Most trending recliner chairs are electronic. Besides, some of these also come with the added comfort of massagers and cup holders. You can even choose a contrasting colour recliner chair to make it stand out in your living room. It would add the perfect rustic vibes to your room.
Grand Repos Wingback Chair
Grand Repos wingback chairs are gaining wide popularity. They form the best wingback chairs for your home decor because they look luxurious. These chairs are available in plenty of models and colours. Grand Repos chairs are a pure work of art. The ones with black and silver base finishes look perfect in the living room.
Papilio Wingback Chair
Papilio is a Latin word that translates into 'butterfly.' Papilio wingback chairs would look perfect in your living room because of their elegance. They emit a powerful radiance, are sturdy and is sure to make a bold statement in our living room for a long duration.
If you don't want to add them to your living room you can also place them in your bedroom.
Papilio wingback chairs are so great that they would be suitable for any room so pick your perfect chair.
Wegner Style Wingback Chair
These wingback chairs are versatile and look modern. They have a modern look, so they can elevate the look of your living room. To make your living room look the best, you can combine some other home decor pieces; for instance, a wall clock at the back of a Wegner style wingback chair to add to its beauty.
Egg Chair
An egg chair derives inspiration from one 1985 design by Arne Jacobson. An egg chair has a hallmark angle. It also has a glove-like flare.
This wingback chair will make your living room look modern and stunning at the same time. In addition, some of these come with a swivel base, making them ideal for keeping in your bedroom.
Tom Dixon Wingback Chair
If you are looking for a wingback chair to make a statement, you should get a Tom Dixon chair. This chair has a timeless style. There is no other better chair that can make your room look aesthetic.
Modern Metal Wingback Chairs
Metal furniture is sturdy and lasts longer than other pieces. Metal wingback chairs make a statement just like any other chair. However, their approach is a little casual. You can definitely pick a modern metal wingback chair for your home decor. Sitting on it will offer you extra relief.
Reader Wingback Chair
For decorative purposes, a reader wingback chair is the best choice for any person. It looks radiant and adds a spirit of luxury to your room. These chairs will give you a feeling of having some Danish furniture in your house. Besides, the comfort that they offer has no match.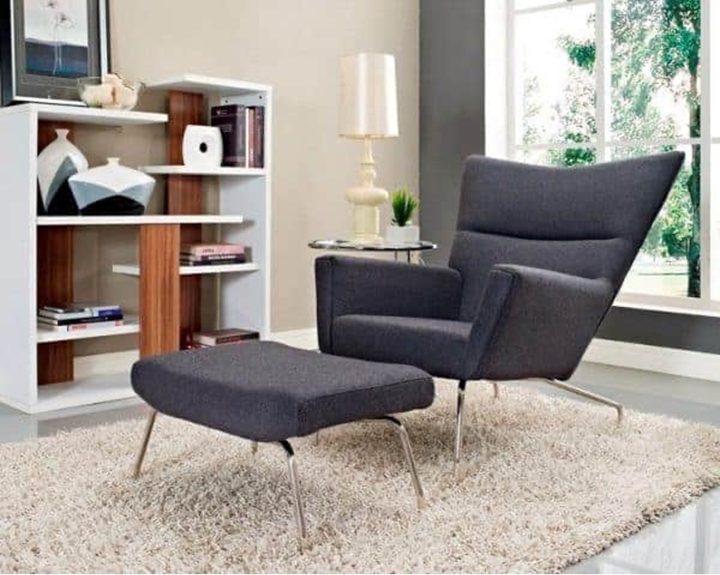 Wingback Chair With Steel Legs
Steel-legged wingback chairs look great and versatile. They can contribute to making your room look better with their colours. Yes! These are available in plenty of colours and go perfectly well within your living room. Wingback chairs with steel legs are durable, vivid, and eye-catchy.
Wrapping It Up!
If you are thinking of adding wingback chairs to your home decor collection, we would say you have a great choice! Wingback chairs look aesthetically pleasing in your living room. If you compliment them with other home decor, they look lovely! So, pick your favourite wingback chair and take your home decor to the next level. 
Apart from this, if you are interested to know more about Introduce Outdoor Lounge Chairs then visit our DECORATION category