As soon as offices are over and everyone is going back to their home the only thing we all look up to is our couch or sofas that feels like heaven at that time. With coffee in one hand and Netflix in the other. That's all you need when you come back, but what if something gets spilled and ruins your furniture? Pick fabrics for your home decor that are stain resistant and sustainable. 
But have you wondered except for their comfort what else is there that attracts us?
Most of us pay very little attention to the type of fabric as we don't know why we like a particular fabric. It is the color and texture of the fabric that attracts. Not only this but also bath lines, bedsheets, and upholstery fabrics play an important role. There are a variety of textiles that are suitable for various use in our home. To have proper knowledge about which fabric is good for what use, come to Fabriclore. Here you along with the knowledge, enjoy numerous fabrics in one place.
Fabrics such as silk, linen, organza, chiffon, polyester, taffeta, tweed, velvet, and many more are available here. It is one of the leading fabric suppliers in India and along with that, we have each fabric online. So that even if you are sitting miles away still you can purchase, our shipping services are available in the USA, UK, and Canada also. But before man other things that are left to explore, let's have some more information on fabrics.
Which fabric is best for upholstery?
Linen 
The most desirable fabric especially in a hot and humid climate is linen. It never goes out of trend, and with time it will become better and more comfortable. Moreover, it is light in weight, highly absorbent, durable, and breathable. And because of this, it is an ideal choice for curtains, sofas, chairs, wallcoverings, and lampshades. Unlike cotton, it never retains moisture and hence dries quickly, which further helps in heat retention in warm conditions.  
Additionally, its qualities like drying quickly and smoothness are appreciated for usage in commercial sheets, bedding, tablecloths, cushion covers, napkins, pillow covers, towels, and many more. This fabric can be machine-washed, so you don't need to worry about anything. It is the best option to have an earthy aesthetic look for your home decor.  
 Silk
Royalty in its look and softness in its touch, this fabric has it all. It is considered one of the strongest natural textiles. But for this there is a precautionary note, if you are choosing this fabric for home furnishing then it requires a lot of care and maintenance. Its qualities include elasticity, shine, absorbency, breathability, and more. Moreover, it is hypoallergic also, so if you are prone to allergies then this is the best thing you can add to your home decor. Its look gives a royal texture to everything from curtains to bedsheet covers.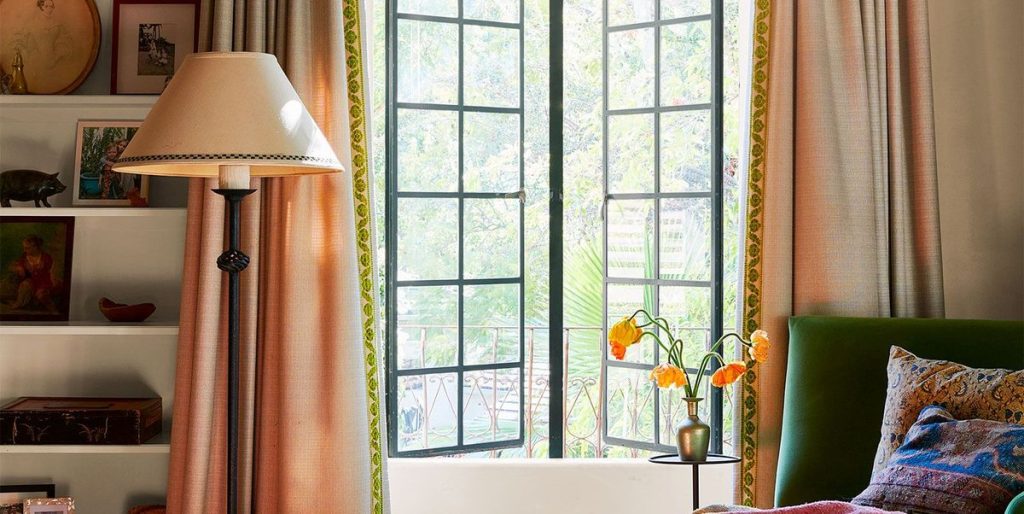 Cotton
Cotton is an all-rounder fabric that is lovable by all because of the comfort it provides. Moreover, India is the largest producer of cotton. This fabric is great for curtains, bed linens, upholstery, etc. Moreover, to get printing, dobby, and dyeing, it will be an ideal choice to make. Along with this, it requires very low maintenance.  
Polyester
Polyester is a strong fabric with, elasticity, durability, and wrinkle-resistant and more qualities. But due to its soft finish and no pores, it makes this fabric a little less breathable. Make it a choice for your home decor such as for curtains, cushions, chairs, and more. In addition to it, embellishments can be done over it as its firmness will support them. Polyester-blended fabrics are easy to find and they are adaptable to dyeing which opens various ways to have numerable color and pattern options.    
Why don't you level up your home with these beautiful fabrics? 
In the world of Fabriclore, you can even design and customize your designs. And in that, if you need any assistance, our in-house designers will help you with that also. Let it be your personal or professional project get everything customized here. Moreover, they will give your belongings a unique touch, because to stay with the changing lifestyle customization is all you need. To have everything in one place might be hard for you so, stay connected and take home fabrics in any quantity you want. Buy wholesale fabric or retail at a reasonable price from here. Give your home a new touch with amazing fabrics from Fabriclore.