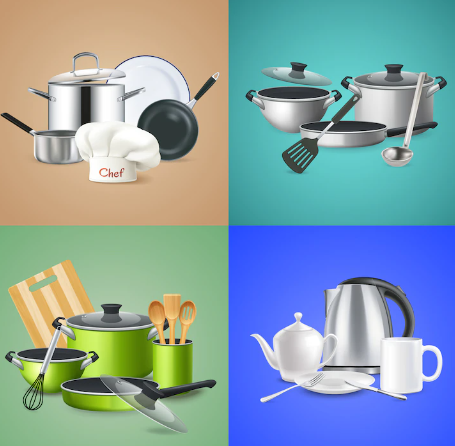 The global kitchen appliances industry size is expected to gain momentum by reaching USD 210.80 Billion while exhibiting a CAGR of 3.7% between 2020 and 2027. Kitchen appliances are commonly used in households & other places for their daily cooking needs. The users can effectively reduce the time & effort required for cooking activities with the help of such high-performing products.
Customers essentially consider various factors such as compactness, product features, and functionality of the small appliances during the buying process. Multi-purpose kitchen gadgets such as grillers, blenders, compact air fryers, and others are widely popular among the hotel cooks & households as they can perform multiple tasks with the help of a single device in a cost-effective manner.
This is attributable to the increasing adoption of smart and energy-efficient kitchen appliances across the globe. Fortune Business Insights, in its latest report, titled, Kitchen Appliances Market Size, Share & COVID-19 Impact Analysis, By Product Type (Refrigerator, Cooking Appliances, Dishwashers, and others), Application (Residential and Commercial), Distribution Channel (Online and Offline), and Region Forecast, 2020-2027. Mentions that the market stood at USD 159.29 billion in 2019 and is likely to Showcase considerable growth during the forecast period.
Reduced Consumer Spending amid COVID-19 to Lead to Sluggish Growth
The novel coronavirus has led to the unprecedented economic loss suffered by several industries globally. In addition to this, several people have lost their jobs owing to suspended or completely stopped businesses. This has led to a significant reduction in consumer spending ahead of the uncertain times leading to the market going through a sluggish growth in the near future.
Kitchen appliances are equipment extensively adopted in households for daily cooking needs. These appliances aid in effectively reducing time and efforts that are required during cooking activities. Owing to their compactness and functionality, these appliances are in great demand across the globe.
Increasing Demand for Smart Kitchen Appliances to Augment Growth
The availability of high disposable income and the hectic lifestyle of working professionals is driving the sales of smart kitchen products that aid in effective reduction of time and efforts. In addition to this, the surging electricity bills and the growing demand for sustainable consumer products are propelling the manufacturers to develop energy-efficient kitchen appliances globally. These factors are likely to favor the global kitchen appliances market growth in the forthcoming years.
Refrigerator Segment Held 37.56% Market Share in 2019
The refrigerator segment, based on product type, held a market share of about 37.56% in 2019 and is projected to showcase exponential growth owing to the increasing demand for innovative refrigerators that aid in increasing the shelf life of food products.
Asia-Pacific to Remain at Forefront; Presence of Large Number of Middle-Class Families to Augment Growth
Among all the regions, Asia-Pacific is expected to remain dominant and hold the highest position in the global kitchen appliances market in the forthcoming years. This dominance is attributable to the large presence of middle-class families that propel the sales of kitchen appliances for household purposes in the region.
The market in Europe is anticipated to experience significant growth in the forthcoming years. This is ascribable to factors such as the growing demand for innovative dishwashers in countries such as the U.K., France, and Italy in the region between 2020 and 2027.
Major Companies Focus on Acquiring Other Enterprises to Brighten Their Market Prospects
The global kitchen appliances industry is fragmented by the presence of major companies that are focusing on acquiring other companies to expand their kitchen appliances product and further boost their sales revenue. Furthermore, the adoption of strategies such as the introduction of new products, partnership, and collaboration by other key players to gain a major chunk of the share is expected to bode well for the market growth in the forthcoming years.